Smart Thermostat Repair, Installation, and Replacement in Las Vegas
Once upon a time, homeowners had to adjust their indoor temperatures by opening windows or fueling fires. Luckily, in 1883 a professor grew tired of having a cold classroom. He would always look for the janitor responsible for adjusting dampers in the furnace. This led to Professor Warren Johnson inventing the first thermostat.
Many people underestimate the importance of the AC unit's properly functioning thermostat. Smart thermostat installations ensure system efficiency and provide comfort for your home. The thermostat is the brain of the HVAC system and thus it cannot function without a thermostat.
If you are looking to improve the efficiency and performance of an HVAC system, one major way is by upgrading the "brain" with a smart thermostat installation, including:
Programmable thermostat
Wi-Fi thermostat
Nest thermostat
Our qualified Las Vegas contractors are experts on high-tech smart thermostat installation, repair, and replacement and can improve the efficiency and performance of the HVAC system. Call us at (702) 518-4720 to learn more about smart thermostat installation, repair, and replacement in Las Vegas.
Signs It's Time For Thermostat Repair, Installation and Replacement
If your HVAC system doesn't work efficiently, before assuming you have a costly HVAC issue, you want to have the thermostat checked. The thermostat controls the central air functions of your home, and if it isn't functioning correctly, it causes the HVAC system to run more frequently and consume more energy.
So how do you spot when your thermostat needs repair or replacement? Here are common reasons that indicate that you need thermostat repair:
Heating or cooling doesn't turn on
HVAC cycling runs constantly and won't turn off
Room temperature and setting don't match
The thermostat has no power or is otherwise not responding
Some common problems with thermostats include:
Dead batteries
Dust and debris
Faulty wiring
Old age
Transformer issues
After typically over ten years of service, it may be time for a smart thermostat upgrade. If you're having issues with the thermostat, our general contractors in Las Vegas will assist with troubleshooting your existing device or recommend options for a new smart thermostat installation or repair.
High-Tech Smart Thermostats
Today homeowners are increasingly looking for ways to connect the comfort of their home to their lifestyles. This includes means for energy-intelligent home heating and cooling.
Smart thermostat installation helps homeowners and businesses save money on their utility bills while keeping the indoor environment at the preferred temperature.
With an upgraded control system, you can be sure your air conditioner is running smoothly and efficiently.
Advantages of Smart Thermostats Over Regular Analog Thermostats
We understand the skepticism when it comes to all the "smart" devices out there. After all, you can ask – what's wrong with your current regular thermostat and why do I need a smart thermostat installation right?
While there's nothing wrong with the average thermostat, it does lack several features that could help squeeze every bit of efficiency out of your system. Thanks to its features and automated behaviors, smart thermostats use every minute of runtime to your advantage.
The best advantage of a smart thermostat is that it is programmable – allowing you to choose temperatures for any time of the day. Once programmed per your needs, you don't need to make any changes. A programmable, smart thermostat installation can give you the ability to monitor the temperature of your home. Thermostats can even alert you for a filter change, so you do not forget it, and extend your AC unit's useful life.
Choosing to have a smart thermostat installation may sound like a costly investment, but there are many affordable options available that also promote energy savings. Ask one of our technicians about the benefits of a smart thermostat installation in your home.
There are different advanced control options available to homeowners and businesses. Here are options for smart thermostats installation, replacement, and repair services in Las Vegas:
Programmable thermostats: homes are vacant for many hours during the day when household members are working or at school. Programmable and smart thermostats allow you to turn the AC off when everyone is away and turn it back on before family members get back. This saves you energy costs, especially if your home is vacant during the hottest part of the day.
Zoned control systems: home zoning divides your home into multiple climate control zones and adjusts the temperature in each room. If certain rooms in your house are always colder or hotter than others, you should consider system zoning which includes installing multiple thermostats. These smart thermostats are connected to a control panel that monitors automated dampers inside the duct sealing. Dampers open and close per thermostat settings so that the temperature is consistent throughout the home. You can even close dampers to specific rooms that are rarely used and open the dampers when needed. Individual control of temperature gets you energy savings.
Wi-Fi thermostats: your schedule may change unexpectedly, and a smart thermostat installation helps adjust accordingly. You control Wi-Fi thermostats remotely through your mobile device. Turn on the AC when you're on your way home and your house will be comfortable by the time you arrive.
Our advisors will help you choose the right control options for the comfort of your home.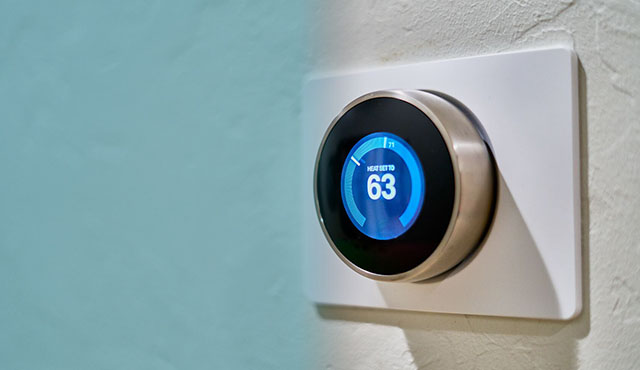 Thermostat Installation, Maintenance, Repair, and Replacement
Allstate Service Group offers wide selection of smart thermostats for different types of homes. Our team of experts will answer all your questions and help select the right equipment for your home.
We take pride in offering cutting-edge technology in Wi-Fi programmable and other smart home thermostats. Call us today at (702) 518-4720 to schedule a smart thermostat upgrade, replacement, installation, or repair.
Digital Thermostat Installation, Repair, and Replacement
Programmable digital thermostats are energy efficient and can save up to 30% on utility bills. Digital and smart thermostats are significantly more accurate than analog thermostats. They will make your home or workplace more comfortable and lower your electricity bills.
Digital and smart thermostats require more investment than analog thermostats, but in the long run, increased efficiency and saved energy bring you a worthwhile return on the investment of digital and smart thermostat installations.
Smart Thermostat Installation, Repair, and Replacement
Up to 50% of home energy consumption goes for heating and cooling. Dialing your thermostat up and down to save some energy can be tedious, so if you are serious about making every degree count, consider upgrading your thermostat model. A programmable thermostat is decent and not too expensive if you stick to regular routines. But if you really want to go high-tech, then you want to get a smart thermostat installation.
Smart thermostats sync with smartphones and tablets and you control them from anywhere and set heating and cooling schedules using a convenient interface.
Wi-Fi thermostats
A thermostat is the brain of an HVAC system. To improve the efficiency and performance of the HVAC system means to upgrade the "brain" with a Wi-Fi thermostat installation. Here are some ways that Wi-Fi thermostat can make the difference:
Improved savings: research suggests that every degree away from outdoor temperature equals 3% of your costs. So, every degree counts and that's why you want to replace your slide or dial thermostat as soon as practical.
Less wear on HVAC system: even programmable thermostats can keep running during times when it's inefficient. Extra usage of the HVAC system contributes to its faster wear and tear.
Consistently improved comfort: when you trust the thermostat to configure heating and cooling for you, you'll find that it keeps you comfortable more consistently.
Nest Thermostat Installation and Replacement
Nest learning thermostat is your solution for a smarter, more energy-efficient thermostat for your Las Vegas home that saves both hassle and money. Nest thermostat learns your habits, and programs itself to keep warm when you are home and conserves energy with lower temperatures when you are away. Increased energy efficiency gives significant savings on heating and cooling bills.
Some of the key features of Nest thermostat include:
Auto-schedule: Nest thermostat learns how warm or cold you like to keep your house based on how you adjust it during the initial weeks. It then programs itself and adjusts as needed down the road.
Remote control: you connect your Nest thermostat to Wi-Fi and can adjust the temperature from your phone, tablet, or laptop.
Automated learning behavior: after a couple of weeks of use, the thermostat will begin to understand your cooling and heating habits to anticipate your needs.
Home/away modes: When you are away, the Nest thermostat turns itself down and avoids overheating or overcooling your vacant home.
Early on: Nest thermostat learns how long it takes your home to warm or cool and keeps track of the weather so it can maintain temperature how you like it.
Nest Leaf: Nest Leaf shows up when you choose a temperature that will save you energy, helping guide you to energy-saving temperature choices.
Safety temperature alerts: If your home gets dangerously hot or cold, your Nest sends you an alert on your phone or tablet.
Efficiency-driven performance: stay on track with your efficiency goals with reminders, notifications, and reports. A smart thermostat makes complex, calculated decisions.
The nest thermostat works with most HVAC systems and learns from your behavior to save you money. A smart thermostat is a significant investment and you want to trust smart thermostat installation, repair, and replacement services to experienced professionals, just like our contractors in Las Vegas.
Studies have shown an average savings of 10% on heating and 15% on utility bills. So, in under two years, the Nest Thermostat will pay for itself. And you can manage your new Nest thermostat from your smartphone and remotely adjust the temperature.