Las Vegas Faucet Replacement Repair and Installation
From cleaning faucet aerators, fixing faucet leaks, and installing new kitchen faucet, bathroom faucet, bathtub faucet, or installing new shower valves, our experienced crews will handle all kitchen and bathroom faucet matters.
We offer all-around plumbing repair services: kitchen and bathroom installation, replacement, repair, and maintenance of kitchen faucets, bathroom faucets, shower valves, bathtub faucets, etc. Our qualified technicians work with a variety of equipment, including sinks, faucets, dishwashers, ice makers, hot water dispensers, and garbage disposals.
Call us at (702) 518-4720 to schedule an appointment to get all kitchen and bathroom faucet replacement, repair, and installation services.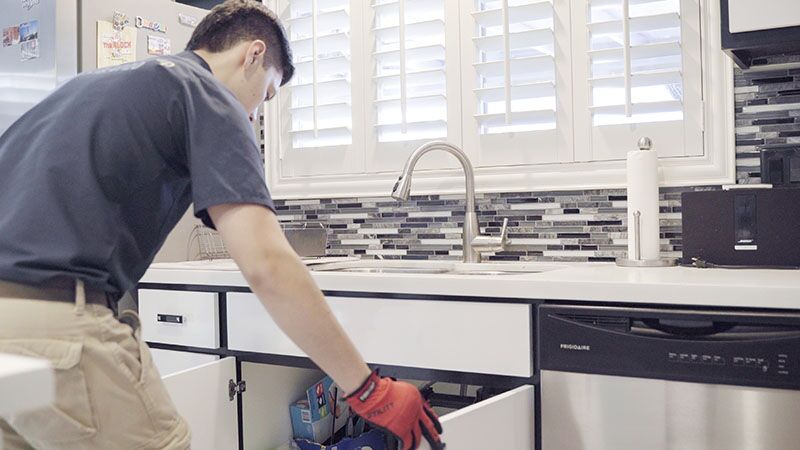 If you are remodeling your kitchen or bathroom, relocating current installation, or making an addition, our professional technicians will run new water lines, reroute current water supply lines and drains, and perform new installations. For remodeling and home improvement projects, our professionals will do bathroom and kitchen faucet installations, repairs, and replacements.
Our experienced contractors at Allstate Service Group will provide kitchen and bathroom faucet replacement, installation and repair services in Las Vegas. Call us at (702) 518-4720 today and our professional technicians will be on their way for all plumbing needs in Las Vegas and surrounding communities.
Kitchen Fixtures Installation Repair and Replacement in Las Vegas by Qualified Technicians
A new sink or faucet replacement or installation in your kitchen? Have the plumbing system properly connected and prevent issues in the future. Experienced contractors at Allstate Service Group will complete thorough kitchen fixture installation steps to ensure the new and improved kitchen will serve you for many years to come.
Plumbing Inspection – a thorough inspection of the existing plumbing system will identify if pipes need repair or replacement before new fixtures are installed.
Old fixture removal – a seamless process with the least disruption, including quick and thorough cleaning and removal of the old fixtures for disposal as needed.
New kitchen fixtures installation – connecting the sink, faucet, and other fixtures to the kitchen plumbing system, including the precise fitting of pipes, faucets, handles and drains of any size, shape, or design of the kitchen fixture.
Proper faucet installation is key to ensuring of new kitchen fixtures work properly and don't leak or break. Allstate Service Group provides a full range of kitchen fixture installation repair and replacement services, including kitchen faucets. Kitchen plumbing issues need timely repair before they become costly problems. Kitchen plumbing services include, but are not limited to:
Kitchen faucets
Kitchen sinks
Kitchen supply lines
Kitchen angle stops (shut off valves)
Kitchen fixtures
Faucet handles
Garbage disposals
Cartridge replacement to stop faucet drips
Air gaps
Soap dispensers
Low water pressure repair
Refrigerator water supply hookup
Get Help with Installation Repair and Replacement of Bathroom Fixtures in Las Vegas?
Our professional technicians will install new plumbing fixtures in your kitchen, bathroom, or other areas of your home. Our experienced Las Vegas plumbers ensure proper installation, done timely and accurately.
There are many reasons to upgrade your bathroom, kitchen, and outdoor fixtures. Allstate Service Group has the expertise to get quality fixtures and proper faucet installations.

Bathroom fixture installations we include, but are not limited to:
Bathroom faucets
Bathtub faucets
Bathroom sinks
Shower valves
Bathtub and shower fixtures
Shower and faucet cartridges
Toilets
Bidets
Our professionals will do bathroom faucet installation, replacement, and repairs in a cost-effective manner. We are committed to delivering a full range of plumbing fixture services to residential and commercial customers in Las Vegas and surrounding communities. Make an appointment by calling us at (702) 518-4720.
Faucet Replacement, Installation and Repair in Las Vegas
At Allstate Service Group, our professionals are available to tackle any kitchen and bathroom emergency plumbing needs, safely remove clogs, clean and scour pipes, and make kitchen and bathroom fixtures work in proper condition.
We pride ourselves on delivering quality workmanship at a great value. Whether you need a new kitchen faucet installed or a new bathroom faucet, we make sure the job is properly done. Contact us and we will take care of all your kitchen and bathroom faucet installation replacement and repair services in Las Vegas