Las Vegas Plumbing Services
There is no task our team of plumbers in Las Vegas can't handle.
Allstate Service Group is the #1 choice for Las Vegas plumbing services. We are your trusted professionals for whole-house plumbing. Servicing both residential and commercial customers, we always put you first. We are full-service contractors who provide plumbing, drain cleaning, heating and cooling, construction and remodeling, electrical work, and also restoration services. Enjoy our friendly customer service, combined with highly skilled servicemen who know their stuff inside and out. We operate on the principles of honesty, integrity, and high-quality work. We take great pride in being the top, reliable plumbing company for all the Las Vegas locals. We offer a 100% guarantee on every job, and we are not happy until you are happy.
Plumbing repair can be stressful and damaging. Therefore, we will prioritize your plumbing emergencies and get there fast to fix them quickly. Whether you are dealing with burst pipes, a leaky faucet, or a dishwasher or toilet repair, we have it all covered. Water can be damaging, and we take extra care to ensure that the rest of your property is safe and sound from any contingencies with your plumbing repair. We can also set you up on a regular maintenance schedule to ensure those emergencies don't happen as often.
Water Heater Installations and Repairs
Your water heater is an integral part of your plumbing and electrical system, and when it breaks, you need help fast. Allstate Service Group is the only one to call. We specialize in all top brands of water heaters and we can maintain them, repair them, and replace them with ease. We believe in dependability, affordability, and getting the job done right the first time. If you have an issue with your water heater repair or need a replacement, call Allstate Service Group today and see why the locals love us!
Kitchen and Bathroom
We are skilled Las Vegas contractors and plumbers who can successfully handle any kitchen, bath or whole-house remodels. We have a special design team who will work with you to come up with a floor plan that makes sense for your living style. We aren't just plumbers; we can also handle the contracting, electrical, and all other aspects of a complete build or remodel for any area in your house. No remodeling project is too big or too small for Allstate Service Group. So, if you have been thinking about remodeling, make your first call to us!

Repairs & Maintenance
In life, plumbing issues will occur. Thankfully, Allstate Service Group is here to help! We provide regular service and maintenance for your heating and cooling systems to help reduce the number of plumbing repair issues, and we can fix any emergency that arises. From leak detection of faucets and running toilets, to burst pipes and issues related to heating or cooling, we are the ones to call to fix it fast!

Water Heaters
Hot water is a necessity, and we understand the importance of fixing or replacing a water heater immediately. We have trained technicians who service and install all the top brands. We can guide you towards the best high-efficiency model for your needs and budget if your system needs replacing.

Kitchens and Baths
Not only are we Las Vegas plumbing experts, but we are also full-service plumbing contractors. That means that we can completely remodel any kitchen, bath, or another area which includes plumbing, electrical, and construction work. We are bonded, insured, and licensed professionals. That's why we ensure that the job will be done correctly and on budget.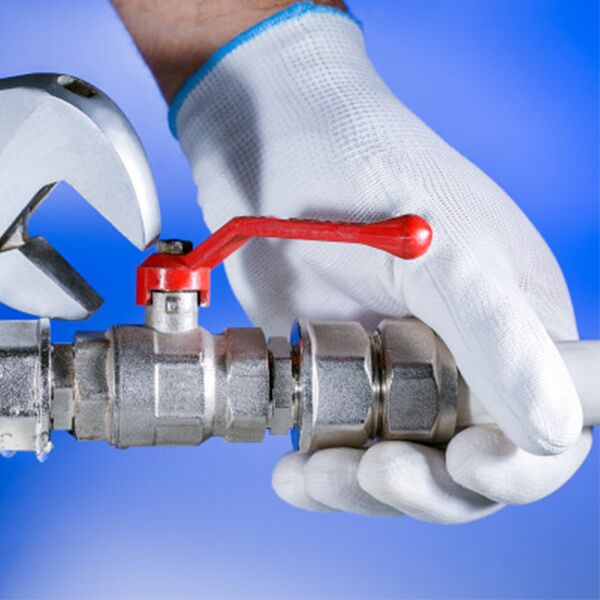 Why Choose Our Plumbers in Las Vegas?
Locals consider us the best plumbers in Las Vegas! When you hire Allstate Service Group, you are getting a highly skilled team of professionals who believe in honesty, reliability, affordability, and doing the job right the first time. When we say we will be there, we will. We guarantee every project, and we are not happy until you are. We provide free quotes with detailed specifications, so everything is out on the table. We don't like surprises, and neither do you. That is why we strive to be Las Vegas' #1 trusted source for plumbing, heating, cooling, electrical, restoration, and construction.
Along with professionals who are good at their work, you also get our signature, friendly customer service with a smile. We are all about communication so that everyone is on the same page. We encourage your input, and our dedicated sales team will work closely with you to find the right solution for your project that matches your budget. If you have a plumbing emergency or just need some help with a kitchen or bath remodeling project, please give us a call! You will be thrilled with our process, our dedication to quality, our service, and our prices!
Emergency Plumbing
When your water heater is acting up, or you have a leak, you need help fast, and we are the ones to call. We are the premier Las Vegas plumber. We are highly skilled in all areas of plumbing, including heating, cooling, new construction, and remodels. If you have an issue arise, just contact us at Allstate Service Group, and we will fix it fast. From the moment you call, our friendly customer service team will greet you and quickly route you to the specialist you need. Our factory-trained technician will coordinate with you to set an appointment that works for your schedule and then show up on time to fix your problem so you can get back to your day.
We provide quotes and stay within your budget. We offer a 100% satisfaction guarantee on every project regardless of how big or small. When you need emergency services, don't call anyone else. Call at (702) 518-4720 and let us show you why the locals love us!