Las Vegas Bathroom Remodeling and Renovation
The first construction company that comes to your mind when you think about bathroom remodeling is Allstate Service Group. For our customers' safety, our in-house contractors are factory-trained, accredited, licensed, and fully insured. Our contractors are experts in doing high-quality jobs to satisfy our customers fully.
Qualified Contractors For Bathroom Remodeling
To do bathroom remodeling and renovation quickly and easily our professional team works effectively. First of all, before starting the work, our licensed craftsmen will take the time to find out your wishes and needs and offer you the best options. We can do projects like:
Complete renovation
Accessibility solutions
Tub and shower installations
You will get the best results no matter if you want to cane to traditional acrylic or upgrade to our groundless natural stone. We usually finish projects in three to five days. Our programs are all-inclusive, and we have an aftercare package to guarantee the durability of our client relationships. You may depend on us to tailor your project to your specific requirements. Custom glass and big electrical jobs are the only things we outsource.
Design — Remove — Replace
We are highly regarded by different organizations as a team that regularly shows a positive attitude. Customers are often impressed with the following:
An A+ rating with the Better Business Bureau
The Houzz Service Badge
An Angie's List Service Award
A Big50 Remodeler of the Year award
Contact us if you're about to breathe new life into your bathroom. Allstate Service Group and its professional bathroom and kitchen remodelers have earned the confidence of homeowners all over the Las Vegas area. Let us show you that this company is the best option for bathroom remodeling and renovation.
Effortless Complete Bathroom Remodeling and Renovation
Your house would be more comfortable, stylish, and valuable with a modern bathroom from Allstate Service Group. Old materials and fixtures are removed and replaced with stunning alternatives in a range of colors, and designs as part of our unique complete bathroom remodel project. You won't have to negotiate with incompetent contractors, continuously shifting schedules, or unforeseen costs when you use Allstate Service Group.
Custom Tub & Shower Remodeling
Allstate Service Group and bathroom shower renovations will revive your space if your space needs a new update rather than a full remodel. Our experienced designers collaborate with you to choose fabrics and styles that compliment your current bathroom, and our fast-working teams install your brand-new bathtub or shower in only a few days.
Stylish Walk-in Bathtub Remodeling
Walk-in Allstate Service Group bathtubs are equipped with cutting-edge safety technology and thoughtful design elements, enabling you to build the bathroom of your dreams while maintaining the safety and comfort you require. Our ADA-compliant walk-in tubs have features such as grab bars, slip-resistant flooring, and supportive seating, all of which are effortlessly integrated into an elegant style.
10 Essential Bathroom Remodeling Tips
There are some important steps that you should consider while remodeling your bathroom.
1. Create a Budget
Bathroom remodeling and renovation expenses can be as expensive as you want them to be, and without a clear budget, prices can quickly escalate. The solution is to do some research on custom building costs in your area, create a reasonable budget, and then try to stick to it. If you hire a remodeling contractor or a design-build company that provides set rates rather than forecasts, this would be much better.
You'll need to think about a few items while making your budget:
Do you want to sell in the next few years?
If you want to relocate things that have been plumbed in?
What are the components of the current bathroom that are completely necessary?
What would you afford to put your money into?
2. Choosing The Bathroom Type
Bathrooms come in a variety of forms, weights, and configurations. You're unlikely to change the kind of bathroom you have when you remodel. Before you put your thoughts in stone, it's a smart idea to weigh all of your choices. Our experienced interior designer will help you see opportunities that you must overlook. By borrowing space from a walk-in closet or a bedroom, a cramped half bath may be turned into a spacious master suite.
There are some types of bathrooms:
Standard Bathroom – Consist of a sink, toilet, and bath, shower, or both.
Half bath – which is a small space that has only a sink and a toilet
Wet bathroom – which is a type of full bathroom where the shower isn't in a separate cubicle or behind a curtain. Wet baths are completely waterproofed, including the floor, cabinets, and walls.
3. Develop a Bathroom Layout
Now it's time to choose the style. There are several bathroom configuration options depending on the form and scale of the space you have to begin with.
Note: You must first determine the architecture of your bathroom remodel before you consider the aesthetics.
We always encourage clients to maintain their current layout. If they like the general placement of the tub or shower, drain, and toilet and can live with it peacefully, then we suggest going for it. Rearranging plumbing fixtures (and walls) will easily increase the expense of a bathroom remodel, so if you can avoid it, do so.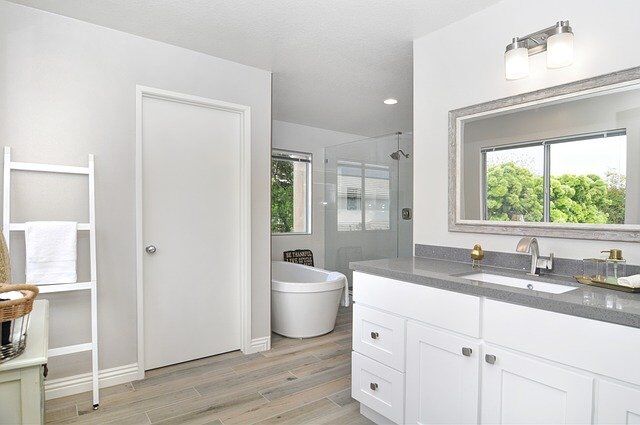 4. Decide Whether You Want a Bathtub
The action in this step is all up to you. If you like a quick shower then you definitely need a shower but if you like to take full advantage of the utter relaxation a bath can provide then you need a bathtub.
5. Consider Lighting
When it comes to planning a modern restroom, a lot of people ignore lighting. However, you'll immediately know poor bathroom lighting when you see it, and it can totally degrade the space's appearance and functionality. Lightings can be natural and artificial.
6․ Don't Overlook Ventilation
Building codes provide proper ventilation in bathrooms with showers or tubs. To keep occupants healthy and avoid mold growth, all bathrooms need excellent ventilation.
Ventilation is usually provided by:
Window vents and windows
Fans for exhaust
7. Add a Touch of Luxury
When it comes to bathroom remodeling, you may want to have a few extras to make your space exclusive. In today's bathrooms, there are a few optional bathroom additions that are being increasingly valued and even planned. Adding this during a remodel is ideal since it can create the least amount of damage:
Heated floor
Heated towel rail
Wall-mounted features
8. Choose Durable Bathroom Materials
Every day, bathrooms are subjected to a great deal of wear. They must be able to withstand extreme temperature fluctuations, as well as major humidity changes and direct contact with water.
Bathrooms must also be easy to wash, resistant to harsh substances, and appealing to the eye. So that's why you need the most durable bathroom materials that will last very long.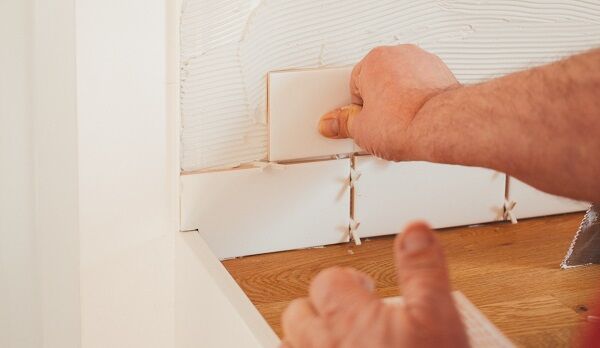 9. Adding An Extra Bathroom
Adding an extra bathroom to your home would not only eliminate the morning struggle for bathroom access but will also improve the value of your property.
A modern bathroom would involve the construction and installation of a complete plumbing system. Although this is a large project, it allows you to design your new room exactly as you like it.
10. Think About Accessibility
It's a good idea to care about accessibility when remodeling your bathroom. In the future, you might install blocking behind the drywall to help grab rails.
A walk-in, the curbless shower is also a lovely choice with the additional advantage of being handicapped-accessible.