Las Vegas HVAC Maintenance
The efficiency of the HVAC unit is greatly increased by simply cleaning evaporator coils and condenser coils. Maintaining HVAC equipment effectively increases energy savings and reduces downtime due to equipment failure. A combination of cleaning coils, higher efficiency filters, and good preventative HVAC system maintenance will contribute to lowered energy bills.
Don't wait until energy costs start to rise. Be proactive and address concerns before they become problems for a clean and safe environment. Regular and timely maintenance will ensure a lasting impact on HVAC systems and process equipment.
Regular maintenance of your HVAC system will:
Extend equipment life
Improve indoor air quality
Increase efficiency
Save energy and reduce costs
Remove harmful pollutants and mold
We offer entire HVAC maintenance services, condenser coil cleaning, evaporator coil cleaning, drain line flushing, drain pan replacement, blower wheel cleaning, and replacement, and flame sensor cleaning and replacement services to homeowners and businesses in Las Vegas, North Las Vegas, Henderson, Clark County, Boulder City, Spring Valley, Enterprise, Nellis AFB, Summerlin, Pahrump communities.
Condenser Coils and Evaporator Coils Regular Maintenance
There are regular HVAC maintenance tasks you can perform on your own to keep the system and coils working efficiently. Make sure there are no trees in a position that will allow debris to fall on the outside unit. Periodically wash off the unit with a garden hose to keep dirt and dust from building up. The most important action to take is to have the system inspected on regular basis by professionals. Trust the condenser coil cleaning to professional general contractors at Allstate Service Group. Give us a call today at (702) 518-4720 to have the condenser coils fully reconditioned and perform at peak efficiency and performance.
Technicians will (1) assess the condenser contamination level, (2) identify the proper method of condenser coil cleaning, and (3) perform HVAC maintenance using state-of-the-art equipment. Our comprehensive maintenance check will have your system last longer.
Common Issues with Condenser Coils and Evaporator Coils
Dirty Coils
The problem may occur when dust and dirt are pulled into the system from outside. Dust and dirt accumulate by sticking to the moisture on coils. Bacteria can also develop if components are not properly cleaned and drained on regular basis.
Frozen Coils
Sometimes coils freeze. When severe enough, frost on the coils prevents the HVAC system from working altogether. Frozen coils are caused by low refrigerant levels. In some cases, frozen coils may be due to insufficient airflow over the coils, which, in turn, is due to clogged air filters or faulty fans. Damaged fins will cause fans to rotate improperly.
Leaking Refrigerant
Most refrigerant leaks are due to debris entering the system or building upon the coils. The refrigerant leak may also occur from holes.
Benefits of Condenser Coil Cleaning and Evaporator Coil Cleaning
Benefits of clean coils include energy savings, maximum heat transfer, system longevity, and improved air quality. Even the best HVAC systems reach their optimum performance only with proper HVAC maintenance of condenser and evaporator coils. Fast and safe way to perform comprehensive condenser coil cleaning.
Process cooling equipment like blast chillers and refrigeration equipment greatly benefit from regular maintenance. Keeping evaporator and condenser coils clean and free of foreign materials will maintain operating efficiency and increase equipment life than any other preventive maintenance procedure.
Condenser Coil Cleaning and Evaporator Coil Cleaning Services in Las Vegas
Most HVAC systems use two different coils. Condenser coil is normally located outside of building, while evaporator coil is usually located inside. Coils are essentially the HVAC system engine, so maintaining and cleaning them is essential. Condenser coils have a very important function to release heat outside in order to cool the indoor space.
Over time, dirt and debris build up in condenser coils and prevent proper airflow. Heat transfer loss results in increased energy consumption and high utility bills. Rising energy costs and accumulation of dust and debris in coils or ducts are indications that the system needs cleaning. For safety and health reasons you want to keep process equipment clean and free of contaminants or potential hazards.
When dirt covers HVAC or chiller coils, routinely scheduled coil cleaning will result in significant efficiency on energy costs. Dirty coils affect all critical equipment – chillers, cooling towers, and boilers. Due to dirty coils, the equipment runs harder than it should, putting undue strain on all components and causing costly repairs.
In addition, dangerous bacteria reproduce in poorly maintained systems and equipment and pose health risks. The evaporator coil and its condensate pan become polluted with pollen, mold spores, and other contaminants. For proper function and efficiency, it's important to keep condenser coils clean and well-maintained.
HVAC Drain Line Flushing
Cleaning the HVAC drain line (or the condensate line) will have a great impact on how efficiently the system runs. The drain line is the small dripping line on the outside of the HVAC unit. This is the condensate drain, which plays important role in removing condensation generated by the evaporator coil, draining it from the air handler to the outside.
A clogged condensate drain line is one common reason homeowners need to call for professional assistance. The problem can be avoided with regular HVAC maintenance and care.
Condensation collects in the drain line and creates an ideal breeding environment for mold. Over time, sludge and buildup form in condensate drain line – mold and mildew, algae, bacteria, fungus, and even small plants. Once enough buildup accrues, blockage becomes too large and clogs the line, causing water to back up into the AC drain pan.
When the condensate drain pan fills, excess water will overflow and leak into the house, causing damage that can quickly turn into costly repairs. In addition, improper or neglected cleaning of the drain lines may cause increased humidity, musty odors, and potentially serious and costly problems with the entire HVAC system.
HVAC Drain Line Cleaning Services
Keeping your air conditioning system's drain line clean will maintain your system's efficiency for years to come. You may be more comfortable having a professional maintain your air conditioning system for you.
Allstate Service Group offers a variety of products and services to keep your HVAC system in top shape. Our professional technicians are there to help with any issues you are experiencing with your air conditioning system. We will perform drain line flushing on a periodic basis.
During regular HVAC maintenance, proper drain line flushing will remove clogs and blockages and prevent mold from growing. Flushing away harmful bacteria and buildup will guarantee to make sure your HVAC system continues to operate at peak performance.
Drain Pan Replacement Services in Las Vegas
Installing a drain pan seems straightforward, but it's best when done by professionals. Due to the weight and size of heaters, drain pan replacement will be difficult for homeowners on their own.
Drain pans are typically made of metal or plastic and are not always strong, so they are easy to crack during installation. In fact, we often get calls to replace drain pans from homeowners who cracked the pan during installation. It is also important to keep in mind that heaters are appliances you want to be very careful with to avoid injury or accident.
Professional general contractors at the Allstate Service group will identify the best placement for a drain pan combined with a floor drain or drain system. Call us now at (702) 518-4720 to schedule an appointment.
How Drain Pans Function
A leak from the heater can lead to significant damage to drywall and flooring and can even cause flooding. Leakage damage can be prevented with the proper installation of a drain pan under the water heater. A drain pan provides an easy and affordable way to prevent water damage.
Drain pans slide under the heater and capture leaks, spillage, or drips. The drain pan also protects flooring from condensation. Drain pans are connected to a drainpipe to move the water out. A drain pan that is not set up correctly will just buy you a few minutes of time before the water overflows and begins to cause damage.
Drain pans work by collecting water from a leak and then channeling the water out of the pan and into the drain line. A properly installed drain pan, with a functioning drain line, will work efficiently to drain water out of the pan rather than letting it overflow.
Las Vegas Furnace Blower Wheel Cleaning and Replacement
Over years, the blower wheel may get dirty and clogged, worsening the system's operational efficiency. Even a small amount of dirt and dust buildup affects furnace efficiency. Dirt creates the biggest impairment for furnace functioning, increases energy use, and lowers efficiency. Dirt has a negative impact on all basic furnace components – motor, filter, and blower.
Regularly cleaning and maintaining your furnace will improve the system's efficiency, save you money, and prevent you from having to replace your furnace.
Blower wheel cleaning ensures the furnace stays in top shape. The blower wheel has blades that push air in and out of the furnace. In the process, the blades can accumulate a significant amount of dirt, causing the blower motor to work extra hard to spin the wheel.
In turn, it will use more power to drive the motor and increase utility costs. In addition, clogged blower wheels cause the heat exchangers to run hotter and shorten the furnace life.
Blower Wheel Cleaning and Replacement Services
Furnace blower wheel cleaning is a complicated task that requires expert knowledge and experience. Leave blower wheel cleaning and replacement tasks to professional technicians at Allstate Service Group.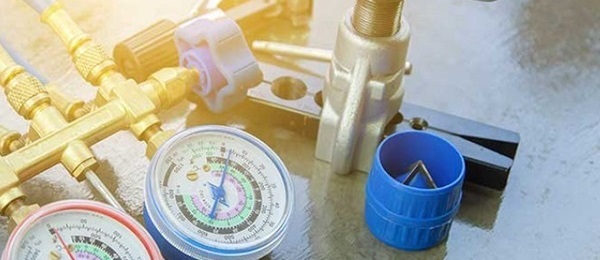 Our technicians will clean the furnace blower wheel, motor housing, belts/pulleys, and blower assembly. We will clean your furnace blower wheel to ensure your HVAC system is efficient. We also offer routine furnace maintenance and tune-up for consistent performance.
Las Vegas Furnace Flame Sensor Cleaning and Replacement
The flame sensor is an important safety feature on heating systems. During ignition, the gas furnace enters a process where the igniter will light up the gas. Once ignited, the flame sensor produces an electrical current, measured in microamps. When the furnace control panel does not read the right level of micro amps, the furnace will shut off the gas supply to prevent the explosion.
Over time, oxidation and carbon buildup will cause flame sensor malfunction. The flame sensor needs cleaning or replacement when your furnace attempts to start but turns off without distributing heat and the safety feature powers down the furnace.
What Flame Sensor Does
The furnace flame sensor is a thin metallic rod located on the burner assembly. When the thermostat signals the furnace to start, the gas valve opens and fuels gas into the combustion chamber, where pilot light or ignitor lights the burners.
The flame sensor is a safety measure as it confirms the presence of fire when the gas is open. Without this, the pilot light could go out and diffuse hazardous gas. If it doesn't detect flame when the gas is on, it automatically shuts off the gas supply. On most modern systems, the shutdown happens a few times and then the system goes into a lockout for some time to allow time for dissolving any gas buildup.
Flame sensor spends so much time in the fire, it has a tendency to accumulate carbon residues, dust, and other particles. The sensor includes sensitive wires which detect fire in a short period of time. Even the slightest particles on the sensor can cause its failure.
Signs of Flame Sensor Malfunction
Here are the signs that the furnace flame sensor is fouled, corroded, or otherwise faulty. The most common sign of flame sensor issue is when the gas burners light up and then go out after a few seconds. This is the most common sign of a sensor issue.
If you notice dirt or blackness on the tip of the flame sensor, then it's time for cleaning and servicing. If you see cracked porcelain on the sensor case, then it's time for flame sensor replacement.
Flame Sensor Cleaning and Replacement Services
As with most maintenance issues, furnace flame sensor cleaning is a multi-step process that may be demanding. It's a good idea to call our professionals.
Allstate Service Group will take care of all flame sensor issues and any other furnace problems you might have We will inspect ignition and gas supply processes and undertake flame sensor cleaning and replacement, as necessary. Call us today at (702) 518-4720 to ensure your heating system's extended life.
Our professional technicians work with all makes and models of furnaces and HVAC systems. We provide immediate response for emergency furnace repairs requests. We also provide routine seasonal heating and cooling maintenance and preventive tune-up. Proper furnace maintenance will prevent costly breakdowns and extend the lifespan of your heating equipment.