Air Conditioner Tune-Up in Las Vegas
Air conditioning maintenance and AC tune-up service in Las Vegas are key to keeping your HVAC system running throughout the year. A properly working air conditioner is key to the comfort of your house.
Regular AC maintenance and AC tune-ups are preventative measures from unexpected breakdowns of a major investment of your house – the AC system. And like any investment you make, you want to protect it – ensuring equipment efficiency and avoiding breakdowns.
Allstate Service Group offers maintenance and tune-up for your air conditioning system that will prevent problems before they occur and that save you money and time.
Call us at (702) 518-4720 to schedule your next AC tune-up service.
Importance and Benefits of Regular AC Tune-Up in Las Vegas
You might think that your AC is working well, but will it continue to do so? You cannot predict when your AC unit will break down or stop performing at its best. But you can be proactive in scheduling a regular AC tune-up and prevent big emergencies. With regular tune-up and maintenance service, your AC will continue to operate at its best – cooling your home or business efficiently and successfully.
Tune-ups catch minor problems before they become bigger ones, saving you money on unnecessary repairs. If you want to keep your AC system running at optimal capacity, then arranging for regular tune-up and maintenance is a cost-effective way to do so.
Las Vegas is known for its summer heat. The last thing any homeowner wants is an AC breakdown during high temperatures. Regular air conditioning tune-up helps identify potential issues and fix them before they turn into big problems.
Through regular use, the air conditioner becomes less efficient. That's because of dust and debris build-up throughout the system. AC unit needs to work harder to cool air, resulting in additional energy costs. An AC tune-up by an expert will improve your AC unit's efficiency, extend its useful life, save energy and utility costs.
Regular tune-up reduces equipment breakdowns by as much as 90% and lowers utility bills by up to 30%. Finally, regular air conditioning maintenance and tune-up are required by manufacturers for warranty coverage of parts.
What Does AC Tune-Up Service Include?
Regular maintenance helps avoid issues in the future. Having a professional check on your air conditioner on regular basis saves you money.
We inspect, clean, and measure the process that identifies problems in your AC well before they occur. Here is an indicative list of steps involved in the process:
Checking
And calibrating safety and operating controls
Electrical contacts and terminals
Evaporator coils
Wires for corrosion, dirt, and rust
Motor and compressor current readings (amperage)
Refrigerant pressures and levels
Refrigerant level and recharging
Proper voltage to equipment
Temperature splits
Cleaning
Evaluating
Evaluating blower motor performance
Evaluating coolant level
Evaluating the condensate drain
Inspecting
The blower assembly
Contactors, relays, and pressure controls
Ductwork, duct seal at the unit, and secure panels
Fan motors and blades for cracks or vibration
And lubricating all moving parts
Indoor blower and motor for dirt and corrosion
And oiling motor bearings
And tightening electrical fuses and any loose connections
Regular maintenance and tune-up guarantee longer life for your AC system!
Schedule Regular AC Tune-Up and Maintenance
Due to the extreme heat in the summer, it is important to get your regular air conditioning tune-up for your cooling system in your Las Vegas home already in winter or early spring. AC Tune-Up is the smart way to ensure your system is running efficiently, with no breakdowns.
During AC tune-up and maintenance visit our qualified HVAC technician will clean out your cooling unit and thoroughly inspect your entire system for potential safety hazards. AC Tune-Up service extends the useful life of your AC unit by identifying potential issues before they happen. This will also reduce the risk of costly breakdown of your air conditioner during hot summer days.
How to Properly Maintain AC Unit?
We can ensure your AC unit is maintained properly through the following essential steps:
Cleaning and unclogging drains
Cleaning fins on exterior portions
Ensuring properly level of all parts
Removing debris from fan cage and exterior portions
All these and other steps are designed for proper work of the entire HVAC system and to avoid costly damage in the future. Experience suggests that proper ac maintenance and tune-up help avoid nearly 90% of central air conditioning repairs.
Extend the useful life of your AC unit by enrolling in our regular maintenance plan. You will receive all benefits of our Air Conditioning Performance Tune-Up, plus discounts and priority service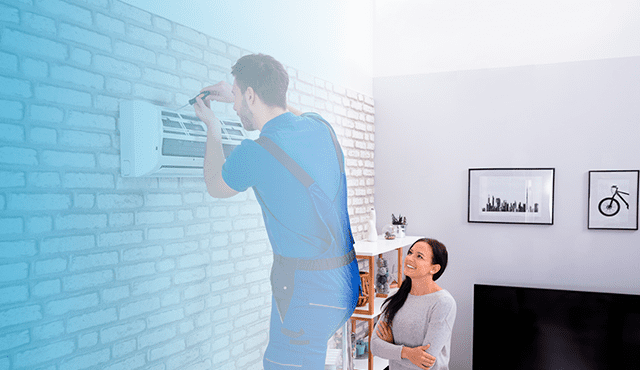 Call us now at (702) 518-4720 to enjoy the peace of mind that comes with our regular ac maintenance and tune-up visits. The most cost-effective way to keep your home or business cool is to schedule regular maintenance and AC Tune-up.