Las Vegas Backsplash Installation, Repair, and Replacement
Bathroom or kitchen backsplash installation may completely transform the aesthetic of the space while also increasing the value of a home. A simple backsplash is a simple and inexpensive way to update a kitchen or bathroom on a budget.
Backsplashes are not only decorative, but they may also protect walls from water, oil, and toothpaste residue under sinks and in other wet locations. A backsplash makes it considerably easier to clean and maintain than paint alone, so any food that splashes up while cooking may be simply wiped away. Anyone who has ever washed spaghetti sauce off of paint understands how useful backsplash is! Contact us now for backsplash tile installation in Las Vegas!
We understand how difficult it is to live in a location where work is done, especially in public areas like the kitchen and restrooms. Allstate Service Group has been vetted and is clean, trustworthy, and competent. We endeavor to execute every job on schedule, on budget, and with as little inconvenience to your house as possible.
We'll install it after you've purchased it. We keep our expenses low by removing the need for any kind of showroom, reducing our overhead, shipping, and personnel needs, and passing those savings on to you. All you have to do is buy your tile, and we'll take care of the rest.
We take care of every aspect, from backsplash design to installation, and we'll even recommend you in the direction of providers we know and trust. Our company can do any backsplash installation from any designer. And also, we deliver low-cost Las Vegas tile installation once you get a good price on materials.
Backsplashes are an essential feature of any house since they are both useful and decorative. Allstate Service Group's ceramic tile installation services are great for installing a new backsplash, and we utilize only the highest-quality materials. We also have a large assortment of tiles, so your backsplash will look just as you imagined it.
Ceramic tile installation provides a long-lasting, easy-to-clean surface that is perfect for kitchens, bathrooms, and other locations. Our highly competent crew can do these projects swiftly and to the brilliancy that our customers require.
Professional Backsplash Installation in Las Vegas
When redesigning a room, you'll want everything to appear perfect, and backsplashes are no exception. No matter where you want your backsplash put, our trained tile installation staff can make sure it fits and looks amazing. Backsplashes are functional as well as decorative, so we'll make sure that our backsplashes are done with care to guarantee that they last for years, just like our other tile installation services. To do this, we guarantee that our experienced contractors only employ the highest quality products from reputable vendors.
Fast Cleaning Backsplashes
Backsplashes are a fantastic addition to any kitchen or bathroom. These surfaces are anticipated to collect oil and food debris and are designed to be simple to clean. Ceramic tiles are one of the greatest materials for making them. These are durable and simple to clean, so you can clean them quickly without having to worry about being too harsh, which may be a concern with other backsplash materials. Backsplashes made of tile are also quite durable.
Backsplashes Are Not Just For Kitchens
Backsplashes are frequently connected with kitchens, especially behind the sink or the stove. As they are easy to clean and resilient to water and heat, they are suitable for these settings. Backsplashes aren't just for kitchens; they may also be used in other rooms, such as for your bathroom. These are easy to clean and incredibly durable, as well as looking excellent, much like the ones in the kitchen.
What Are The Best Backsplash Choices?
Backsplashes are often built of tiles rather than other materials. If the colors don't match, it might be a jarring contrast. Fortunately, we offer a large range of tiles in a range of shapes, sizes, and patterns that may be used in any area, regardless of color or look. We can work with our customers to ensure that the backsplash complements the space it is put in, in addition to ensuring that it is expertly done.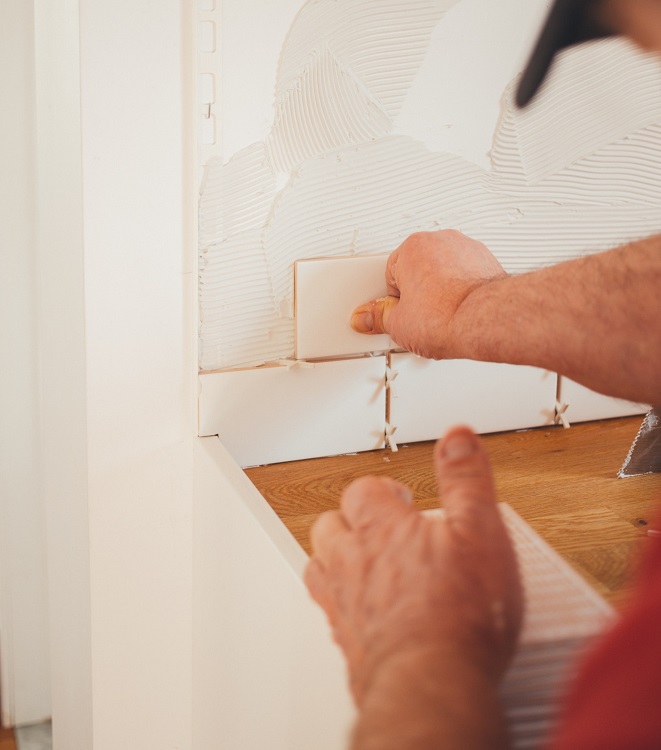 Everything You Need to Know About the Kitchen Backsplash
Ceramic Tile
Classic porcelain or ceramic tile, the chameleon of the backsplash world, maybe everything your kitchen requires. Ceramic tile comes in a wide range of sizes, designs, finishes, and colors, making it a versatile option with proven durability.
Metal Backsplashes
Although the nostalgic and time-honored aesthetic is still desirable today, it lacks that ultra-modern visual cue some homeowners are looking for. Traditional metal backsplashes are usually made from corrugated or stamped tin ceiling panels.
Marble & Stone Backsplash
There isn't much that can compare to the visual attractiveness of a stone backsplash in the kitchen. The contrast between a kitchen's meticulously designed architecture and the natural, organic energy of stone produces a genuinely inspirational juxtaposition – but that luxurious mood can come at a cost: your time and work in maintaining them over time.
Travertine Tile
Travertine tile is a natural limestone tile that is significantly lighter and more natural-looking than ceramic or glass tile. It also requires frequent sealing because it is made of stone, which helps prevent and reduce damage from moisture and spills.
Thermoplastic Backsplash
Thermoplastic or faux-metal backsplashes are attractive, inexpensive, and simple to install. The panels are available in a number of textures, colors, and patterns, making them adaptable and easy to match with your kitchen design. They are normally trimmed to meet an 18.5" high size.
Herringbone Pattern
Herringbone installation design, which is more of an installation pattern than a tile style, helps to elevate and highlight the potential of ceramic tile and is suggestive of a parkette floor in an old art deco building, or the bones of a herring fish.
Glass Tile Backsplash
Glass tile backsplashes are less traditional and more lively, urban, and modern, adding a reflecting quality to the kitchen and brightening the room with light and vitality. A common alternative for a flat ceramic tile is colored glass tile, which helps to accentuate the effect of reflecting color.
Glass tile is also very simple to maintain and care for: because it is non-porous, it never has to be sealed, protected, or treated; simply wash it down with your preferred cleaner and you're good to go.
Grouting
Grouting will most likely be the method of installation for your backsplash. Grout is the mortar that fills the gaps between the wall or floor tiles when using ceramic tile. Which is by far the most common backsplash material. When choosing grout for your own DIY project or for your contractors, there are a few things to keep in mind.
Grout comes in four main forms:
Pre-mixed
Dry
Sanded
Non-sanded
The most common choice is pre-mixed sanded grout. Consider sand in the grout as a vital hardener that will aid in the protection and maintenance of your tile backsplash. When the tile is in a place with a lot of wear and tear, such as on a floor or in a shower, we use sanded grout.
Grout comes in a variety of colors to help blend your tile together or accentuate the gaps between the tiles themselves. So pay close attention to the aesthetic you want to achieve before completing your backsplash choices.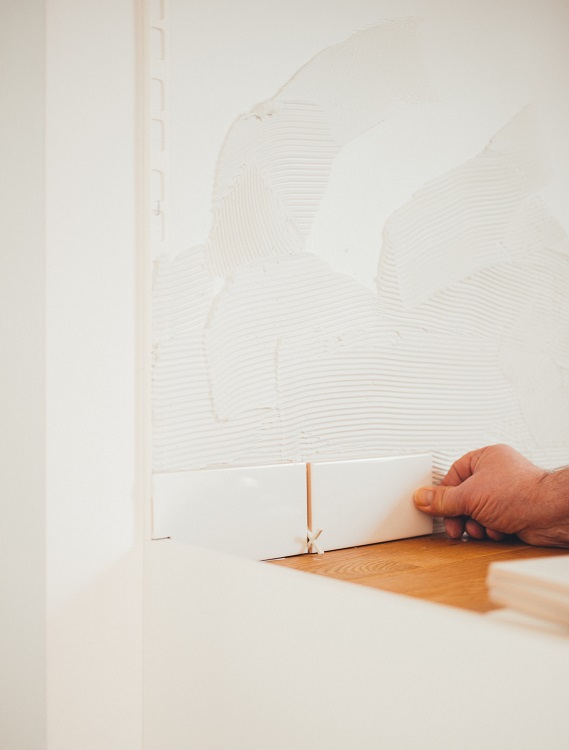 How Much Does Kitchen Backsplash Installation Cost in Las Vegas?
Retail costs for 215 SQF of Backsplash Installation can run between $1,925.99 and $2,741.41 (Non-discounted).
Kitchen Backsplashes installation direct costs can run between $2,613.70 and $5,185.62 in Las Vegas.
Material and supply costs for Kitchen Backsplash Installation can run between $118.88 and $128.74.
Specialty equipment used for job quality and efficiency can run between $50.93 and $76.39.