Las Vegas Air Conditioning Service
Fast, Friendly, and Affordable AC Installations, Repairs, and Maintenance in Las Vegas
If you live in Las Vegas, you know air conditioning is a must! Allstate Service Group specialized in HVAC systems. We use only highly trained, licensed technicians for all our air conditioning services, including AC installations, repairs, and maintaining HVAC and ductless air conditioning systems.
AC Repair Services
If your cooling system is on the fritz, Allstate Service group is your go-to air conditioning company. We know how important AC is in Las Vegas, especially in summer. If your system is old and in need of replacement, we can install a new, high-efficiency system for you and get you back on track in no time. We use only factory-trained technicians to ensure proper ac installation and replacement. If the problem goes deeper and affects water pipes, we can fix that too. The extreme temperatures of a Las Vegas summer can put a strain on your AC unit but don't worry; we can help.
Maintenance Services
We can also get you set up on a regular maintenance schedule to keep your AC running cool consistently, so it won't break down when you need it the most. Our experts can guide you to the solution that fits your needs and your budget. Regular ac tune-ups can lengthen the life of a quality air conditioning system in Las Vegas. In many cases, our trained technicians can find budding problems during maintenance and fix them before they become emergencies. Whether it's dealing with pipes, electrical, or system failure; don't worry, we have got you covered. We are fully trained in ductless systems, thermostats, multi-zoned systems, compressors, condensers, evaporator coils, and more.
Air Quality Services
Our trained servicemen can also check your air quality and make sure your AC unit is free from mold, mildew, and other allergens which could affect your air quality. We want you to get the most out of your cooling system, and we are always finding new ways to help customers be more efficient. Don't wait until there is a problem; call us today at (702) 518-4720 for air quality services and have your air quality tested and evaluated. Our trusted professionals will give you a detailed report and their recommendations for a quick and efficient solution. You can breathe easier just knowing that Allstate Service Group has your back.

Repair
No one likes calling to have their AC repaired, but with Allstate Service Group, we make it easy. We know exactly what to do to fix your problem and get your system back up and running. Before you even break a sweat, we will be on it, quickly, efficiently, and reliably.

Tune up
Regular air conditioner tune-ups can help avoid those repair calls. Getting on a regular maintenance schedule with us will help your air conditioning system run more efficiently, smoother and you'll enjoy better cooling without the headaches of frequent breakdowns. Our technicians can often spot a problem before it happens and avoid disaster.

Air Quality
The Technology
The Air Scrubber by Aerus substantially reduces odors, visible smoke in the air, and microbial populations on surfaces*, utilizing the patent-pending ActivePure® Technology. ActivePure consists of a special UV light and photocatalyst target, creating an Advanced Oxidation Process containing several friendly oxidizers. Certified Space Technology continuously protects and purifies the air, and attacks contaminants on all surfaces.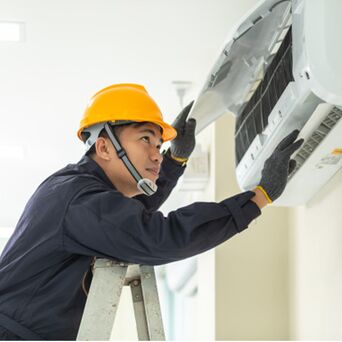 Air Conditioning Company in Las Vegas
We are proud to be the premier air conditioning company in Las Vegas. Our company has more than ten years of experience, and the locals love us! When you choose Allstate Service Group, you are trusting air conditioning service professionals to get the job done right the first time and on budget. We take great care in how we treat each customer from the initial quote until the job is done. We provide free estimates with details of how the job will be completed.
We are committed to quality, dependability, and honesty, and it shows. Our customers are satisfied, and they keep coming back to us for new installations, regular maintenance, repairs, and other services. Allstate Service Group believes in doing what we say we will. So, if we give you a time and a price, we will be there on time, and your project will be completed on budget. Check out our 100% satisfaction guarantee which says we aren't happy until you are.
We don't give up until the job is done. We also don't try to sell you things you don't need. Our contractors at Las Vegas will help guide you towards the solution that best fits your project and budget. You cannot go wrong with Allstate Service Group!
Emergency AC Repair Services in Las Vegas
Emergencies are never fun, but with Allstate Service Group, you are in good hands. We offer emergency services to help you fast and get you back up and running quickly. Our servicemen work efficiently and know all the ins and outs of every brand of the HVAC system so they can quickly assess the problem and fix it fast!
Regardless of the issue, you are having, we can help. Not only do we specialize in air conditioning and HVAC systems, but we are also licensed, bonded, and insured contractors who offer remodeling services, general construction, electrical, and restoration services. No matter how your emergency affects other areas of the home or business, we can help.
Las Vegas air conditioning is a critical component of all residential dwellings and commercial buildings. Allow Allstate Service Group to restore your comfort fast. Rely on our expert knowledge and efficient technicians who have more than ten years of experience working on air conditioning and heating systems.
If you want dependable, efficient emergency services, contact us today!