Swamp Coolers Installation, Replacement and Repair in Las Vegas
In early days, during summers months of dry and desert climate people would sleep on screened porches. They would soak blankets in water, hang blankets over screens and use fans to pull the dry and hot outdoor air and cool it down indoors. This natural cooling discovery inspired development of evaporative cooling system – swamp cooler.
What Swamp Cooler Is
Swamp cooler uses water evaporation to cool air. On the other hand, air conditioning systems use absorption refrigeration and vapor-compression cycles. Swamp cooler is an open system while AC is a closed system. Swamp cooler relies on flow of indoor air to properly direct the cooled air.
Swamp cooler works by circulating the indoor air. Swamp coolers work exceptionally well in areas with low humidity – using innovative evaporation method to add moisture to the air. With dump valve, adjustable roof stand and screens, swamp cooler is an advanced commercial air cooler for fresher and cleaner air all-year round.
How Swamp Coolers Work
With thermometer rising, we search for cooling solutions that provide the much needed heat relief. While air conditioning can get the job done, you may want to check out the evaporative cooling machines, also commonly known as swamp coolers.
Swamp coolers are comparably simple machines that rely on the basic principle of evaporative cooling. Air moving over water causes it to evaporate and evaporation removes heat. Swamp cooler is made of few basic components: fan, water supply (sometimes a tank), air filter, and a penetrable grid. Water supply keeps the grid constantly damp, the fan pulls air through air filter, then past the grid – causing the water to evaporate. This cools the air as it passes through and is distributed into the indoor environment.
Swamp cooler is a fine option for businesses where humidity levels are lower the 50% mark and temperature is not very hot during summer. In most part of Las Vegas and surrounding areas, swamp cooler might be a better choice if the humidity is constantly below average.
To summarize, swamp coolers remove excessive humidity from the air and create comfort. They are ideal for commercial facilities where temperature control is required, such as loading docks and warehouses. Swamp coolers are also ideal option for homeowners who wish to have their garage temperature controlled.
Swamp Cooler vs Air Conditioner
In certain climates and circumstances, installing swamp cooler may be a viable option. Let's compare features for swamp coolers and air conditioners and look into the main differences between roof-mounted swamp coolers and AC systems.
Whether you are looking for commercial air conditioning replacement or AC installation services, take into account the benefits of AC systems and commercial grade swamp coolers.
Swamp coolers are more energy efficient, environmentally friendlier, less noisy compared to AC, and leave low carbon footprint.
In a dry climate with mild temperatures, swamp cooler is a more environmentally friendly, energy efficient and money saving option. Swamp coolers require constant water supply, cannot be used in humid areas, require periodic maintenance and cannot lower temperature as much as an AC system can.
On the other hand, in a humid climate standard air conditioner allows for precise temperature control, without much hassle on maintaining the cooling system. You can also lower the temperature more than with the swamp cooler.
Air conditioners work by removing water in the air and condensing it to get cold air. Unique chemical pulls moisture out of existing air and cools the interior. Cool air is distributed inside and warm air is blown outside.
Refrigerant-based AC systems are not as effective in dry areas, use chemicals that are not environmentally friendly, are more expensive, make more noise and cost more to maintain.
Let's further discuss pros and cons of swamp cooler and AC systems on some of the additional and more specific features and characteristics.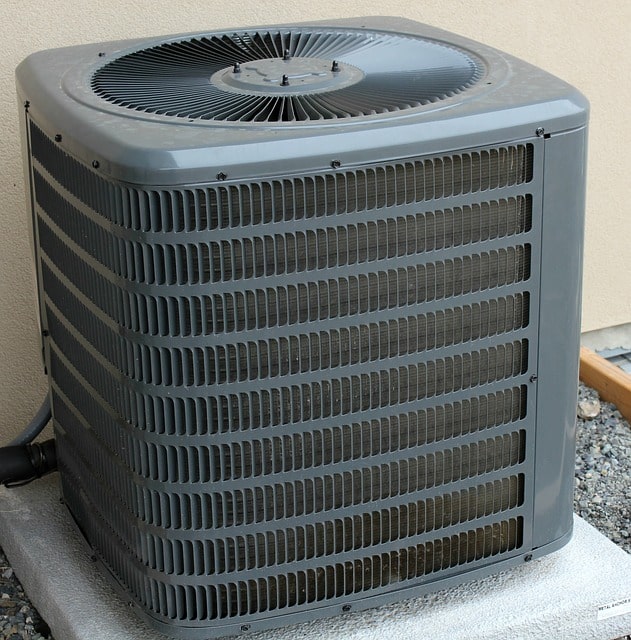 Air quality
For good air quality, both swamp coolers and air conditioners need regular maintenance. Just as air filter of an AC unit needs replacement every few months, you also need to clean or change pads of swamp cooler regularly. Evaporative cooling increases humidity, improving ease of breathing.
Constant and high turnover of air through the building significantly and gets rid of stale air. This is particularly beneficial for facilities that have limited humidity and need fresh air to properly function. Industrial panels, commercial kitchens, greenhouses, factories, and confinement farming are examples of facilities that requires fresh air for comfort and to keep operations intact.
Energy and environment
With a swamp cooler you will enjoy major savings on utility costs. Swamp cooler consumes four times less energy to run than a comparable air conditioner. In addition to energy savings, swamp cooler is also more environmental friendly. As air conditioning technology becomes more energy efficient, AC units start to close the gap on energy savings.
Investment costs
Swamp cooler installation is affordable compared to air conditioner. Estimated cost of swamp cooler installation is generally half the price tag of conventional air conditioner.
Running and maintenance costs
Monthly running costs are also lower for swamp cooler. Swamp coolers are effective in the right climate. It must be both hot and dry for swamp cooler to function at its best.
This makes Las Vegas decent environment with the exception of rainy season in summer.
Swamp coolers are more cost effective to operate. Swamp cooler uses electricity only for the fan and water pump, while AC system uses power for compressor, pump and air blowers. Swamp cooler's cost efficiency is also true for regular maintenance. These evaporative coolers have only two basic mechanical parts to maintain – fan motor and water pump.
Moisture
Air conditioner removes moisture from the air, while swamp cooler adds moisture. In a dry climate swamp cooler will help add moisture to the air. Swamp coolers would not be effective in a climate that's already humid. Many homes and businesses in Las Vegas have central AC systems. However, swamp coolers are also present since they work well under Las Vegas climate and desert drought.
Evaporative cooling requires dry air. That's why swamp coolers are a viable option for the Las Vegas climate. Whether you have an existing swamp cooler or you are looking into purchasing one, we are there to help.
Las Vegas Swamp Cooler Maintenance Services
Functional and effective cooling system is vital for homeowners and businesses in warmer climates. Allstate Service Group is there to help you choose cooling system that best suits your needs.
Our qualified technicians will answer your questions about swamp coolers and central air conditioners. We provide honest and professional comparison that will help you choose optimal solution.
Call Allstate Service Group at (702) 518-4720 to learn additional details about swamp coolers as well as the pros and cons of each option. Our qualified technicians will examine your current HVAC system, inspect review your facility and construction site to determine if swamp cooler is right for your needs.
Ultimately, choice between swamp cooler and air conditioner is up to homeowner preferences. If you're debating over choosing between two options, bear in mind that you can choose to have AC to cool certain spaces and select swamp cooler for other sections of home.
Las Vegas Swamp Cooler Repair Services
Allstate Service Group is certified and licensed to perform full-range of HVAC services, from installation to repair. We work with all types of swamp cooler systems. If you already own a cooling system and its efficiency has begun to decline due to age, it might be time for evaporative cooler system replacement.
Call us at (702) 518-4720 and our qualified technicians for free estimate on evaporative cooler installation services in Las Vegas and surrounding area.
Las Vegas Swamp Cooler Installation Services
Allstate Service Group is a full-fledged service company for all your HVAC needs. We are experts in air conditioning, heating, and ventilation, including swamp cooler installation and repair.
Look no further for Las Vegas swamp cooler installation services. Call Allstate Service Group at (702) 518-4720 to learn about comparative advantages of swamp coolers for your household and business needs.